Networking opportunities assume many forms. People as well as events may embody chances to network. They can occur at random times in unexpected places. However, the most meaningful connections are usually made in an environment conducive for networking.
That realization – that not all networking opportunities are created equal – altered the course of Peeriscope.
Our original version aimed to help iPhone users make the most of chance encounters with like-minded professionals also using the app within a close radius. However, we soon realized that with a small user base, this chance approach only had value in cities packed with tech users, such as New York and San Francisco.
What about the millions of iPhone-wielding professionals in smaller cities? The chances of them finding a nearby peer in the app was significantly lower their than their big-city counterparts. We needed to address this market by providing them valuable information they would otherwise miss out on.
Attending local events is a route to network with like-minded professionals. With that audience in mind, we decided to add a new layer to the app that would put our users in the best position to meet and connect with peers through the discovery of events.
We're pleased to announce a new version of Peeriscope integrated with Meetup.
Problems we address for mobile professionals:
Not everyone is aware of relevant events in their home city
Business travelers who arrive at a new city may not know what to do when they have downtime
People get too many emails – event invitations can get lost in your inbox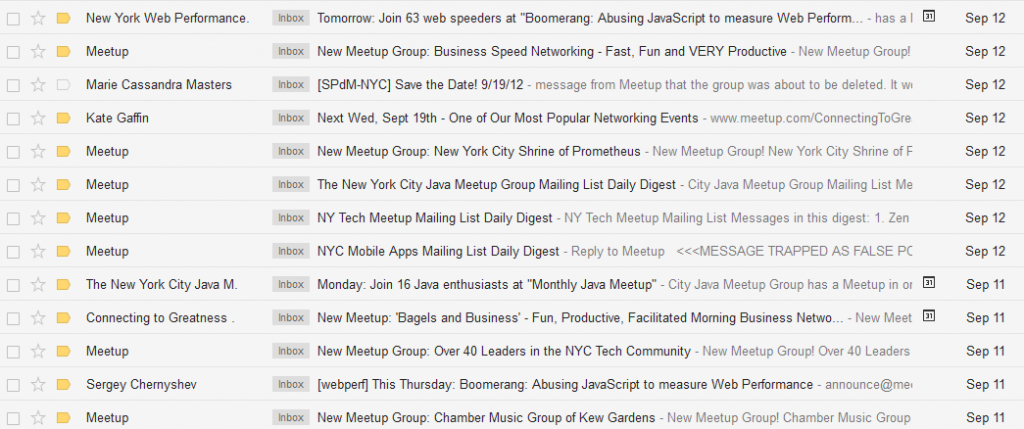 Does your inbox look like this? We believe there's a better way to find out about professional networking events in your city without having to constantly search the web or your inbox.
A new direction
Peeriscope now suggests nearby Meetup events based on your professional interests pulled from your LinkedIn profile. There are 340,000 Meetup events each month in over 45,000 cities. Peeriscope finds the ones that best match your background and interests, then helps you network at the events you choose.
How does the new Peeriscope work?
Import your LinkedIn profile (using the same process for finding peers)
See nearby events on a Map or List format. (You don't have to be a member of Meetup to get recommended events)
Get event details including price, description, address, and number of attendees
View attendee public profiles (even people not using Peeriscope)
See how many spots are left, see who's going, and add the event to your calendar
RSVP for an event through the app before it sells out
This is an example of what a user would see if they had JavaScript listed as a skill on their profile and there was a matching Meetup nearby: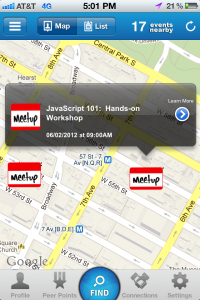 Add to Calendar
If you are on the go and don't have time to view details, simply add the event to your calendar: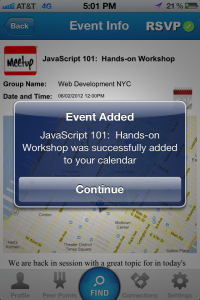 View Attendees:
View public profiles for event attendees before an event: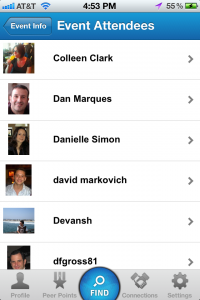 What type of events will users get?
Alumni
A growing number of Meetup groups are focused on connecting local alumni. Here are just a few examples of active alumni groups:
Skills
Whether you're a technology expert, finance geek or marketing professional, you can find great Meetups in your niche through Peeriscope. Here are some example Meetup groups for specific skills:
The type of events you retrieve will depend on your individual LinkedIn profile and nearby Meetup groups. You can control how Peeriscope finds events by using the Quick Filter. Let's say you don't want to see Meetups based on your skills; if so, you can turn off skills as match criteria for events.
Win-Win for Organizers and Attendees
For event organizers, Peeriscope provides a simple way for iPhone users to discover and RSVP for their Meetups.
Some organizers want to increase attendance, while others are more concerned with improving the quality of attendees. Either way, Peeriscope can help them achieve their goals.
Let's look at an example of one industry in one city: Financial Services in New York. There are more than 224,511 LinkedIn members who belong to the Financial Services industry in New York. Meanwhile, at least 10 Meetup groups specifically target Finance professionals. The total number of members for those groups is a paltry 2,357.
There is clearly an opportunity for those Meetup groups to reach a larger share of LinkedIn members in Finance. Peeriscope is a tool that can bridge these gaps and facilitate interesting networking opportunities all over the country.
Try Peeriscope today, and let us know how we can make event discovery even easier for you.